Custom Addendum Sticker w/Tape - 5.6" - 8.5" Wide X 11" Tall - Qty.1 each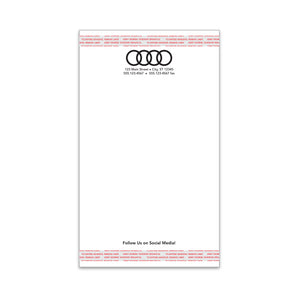 Custom Addendum Sticker w/Tape - 5.6" - 8.5" Wide X 11" Tall - Qty.1 each
Regular price
Sale price
$150.30
Most orders placed before 3pm ET will be shipped same day!
Description
These add on stickers have high quality, 1/2" adhesive strips. This sticker provides space for dealer installed options in a ready to use form.
Custom
Any width up to 8-1/2" wide x 11" tall
1-part, white stock
1, 2, or 4 color print available
Standard ink colors:
Red, Blue, Black, Green;
other colors available at additional charge
2 adhesive strips, one on top and one on bottom
Minimum quantity 250
Adhesive may damage aftermarket inside window tinting. Test all applications before use.