License Plate Frames - Chrome Faced - Qty. 1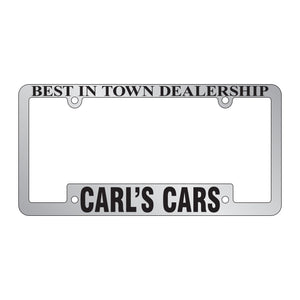 Description
These are high quality, high impact license plate frames. These frames are
UV protected and unbreakable with normal use. Styles below are our most popular.
Shiny Chrome Economy / Shiny Chrome Premium / Brushed Chrome Faced
                 (Recessed letter or recessed panel with raised letter)
6-1/8" x 12-1/4"
High impact polystyrene frame
All frame styles available (panel style can vary)
Standard is Chrome over Black frame
White, Blue, Red, or Gray frame available at additional charge
Select "recessed letter" or "recessed panel with raised letters"
Only the face of the plate is coated (not the sides)
For recessed letter frames the frame color is the color of the letters
For recessed panel frames the frame color is the color of the background of the recessed panel.  The raised letters within the panel are available in different colors at an additional charge.
Low setup charges
Minimum quantity 500
Popular Frame Styles
(Please enter Frame Style and Color in the Comment box during checkout)

License frames may interfere with letters or logos on license plates. We will do everything to minimize this effect. License frames should not block important information on the license plate. Please review your state standards before ordering.