Purchase Order Book - DSA-127NC - 3 Part, 150 per Book - Qty. 1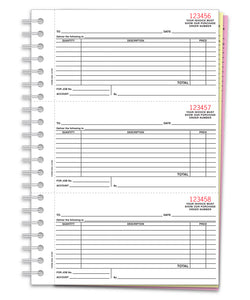 Purchase Order Book - DSA-127NC - 3 Part, 150 per Book - Qty. 1
Regular price
Sale price
$17.12
Most orders placed before 3pm ET will be shipped same day!
Description
These coil bound Purchase Order Books include a heavy stock cover to prevent write-through.
7-1/2" x 11"
3-part, 150/book (3-2/3" x 6-1/2")
Carbonless – White, Canary, Pink
Prints in Black ink with red numbering
3 P.O.'s per page.
Plain books, no selection of starting number
Available crash imprinted in Red, Blue, Black or Green ink on quantities of 5 books and up. Numbering is always in Red ink.
Packaged 1 book
The best system to control all purchases in the dealership.  Control copy remains in book.